Introduction
---
Get Started with the Pass API
Retail companies, marketing companies, advertisers, third party tickets/coupons providers, or travel agencies, can easily use Pass API to automate the process of creating and updating mobile coupons, membership cards, punch cards, event tickets, and travel passes in existing platforms or systems.
Before You Start
As an Enterprise Plan user, you gain all Pass API access. If you'd like to apply the API key, please contact with Pass2U Support via
contact@micromacro.com.tw
and provide the details below. We're excited to learn about What you've built.
Register and provide Pass2U account.
What kind of pass style you are using (e.g. coupon, loyalty, tickets...)?
How to distribute the passes to your customers? (e.g., email, SMS, official websites, apps, facebook...)?
Are you going to use Pass2U Checkout Service for redemption?
Fundamental Concepts
The primary concept is that passes are created from issuing models.
Pass API can be used to:
Create a pass with custom data (e.g., ticket/card number, customer name, email, individual discount...).
Update a pass with specified field changes.
Distribute a pass through your own systems to customers (e.g., email, message, official website, app, facebook...).
How Does It Work?
1. Log in to
Dashboard
, and click Create a Model.

2. Click to select a style you want to distribute to your customers. The model's style determines the overall dafault visual appearance of the passes.

3. On Model Designer page, you can quickly configure model appearance and the barcode type.
About field type, only "
Dynamic
" field can be customized (e.g. member name, email, Individual discount, points, balances...). In order to identify and customize this field via Pass API, the dynamic field should be named with a unique key. "
Fixed
field will use the same data on all passes. "
Points
" and "
Credits
" fields can't be used via Pass API.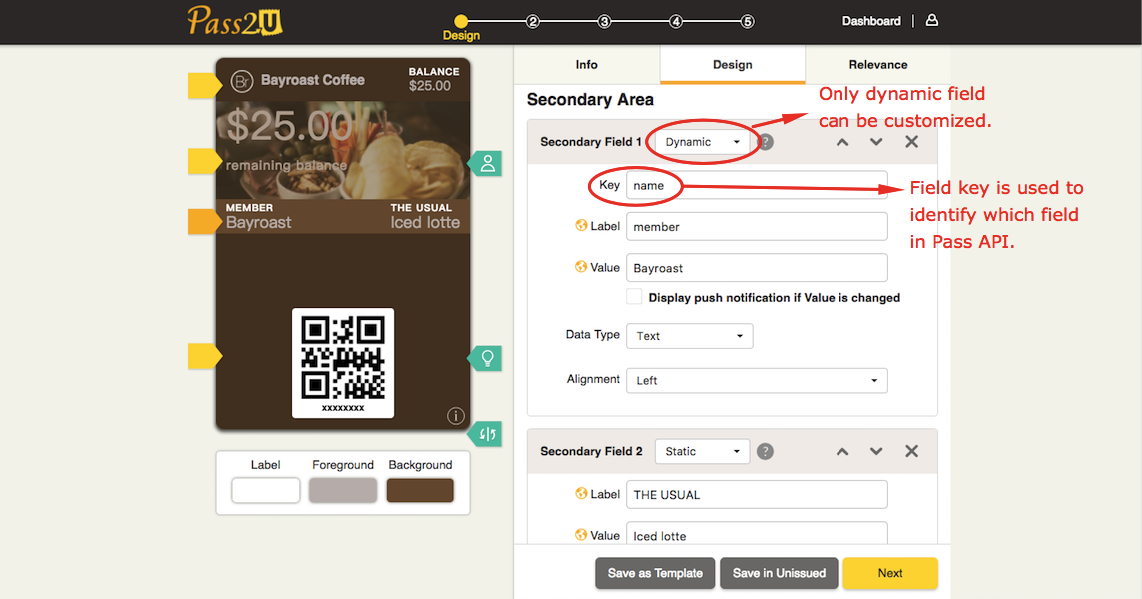 About barcode type, "
Dynamic - assigned by CSV file or API (replicable)
" or "
Dynamic - assigned by CSV file or API (non-replicable)
" can be used to specify barcode, "
Dynamic - unique random 8-digit number
" is used to generate unique 8-digit number barcode for every pass automatically by Pass2U system.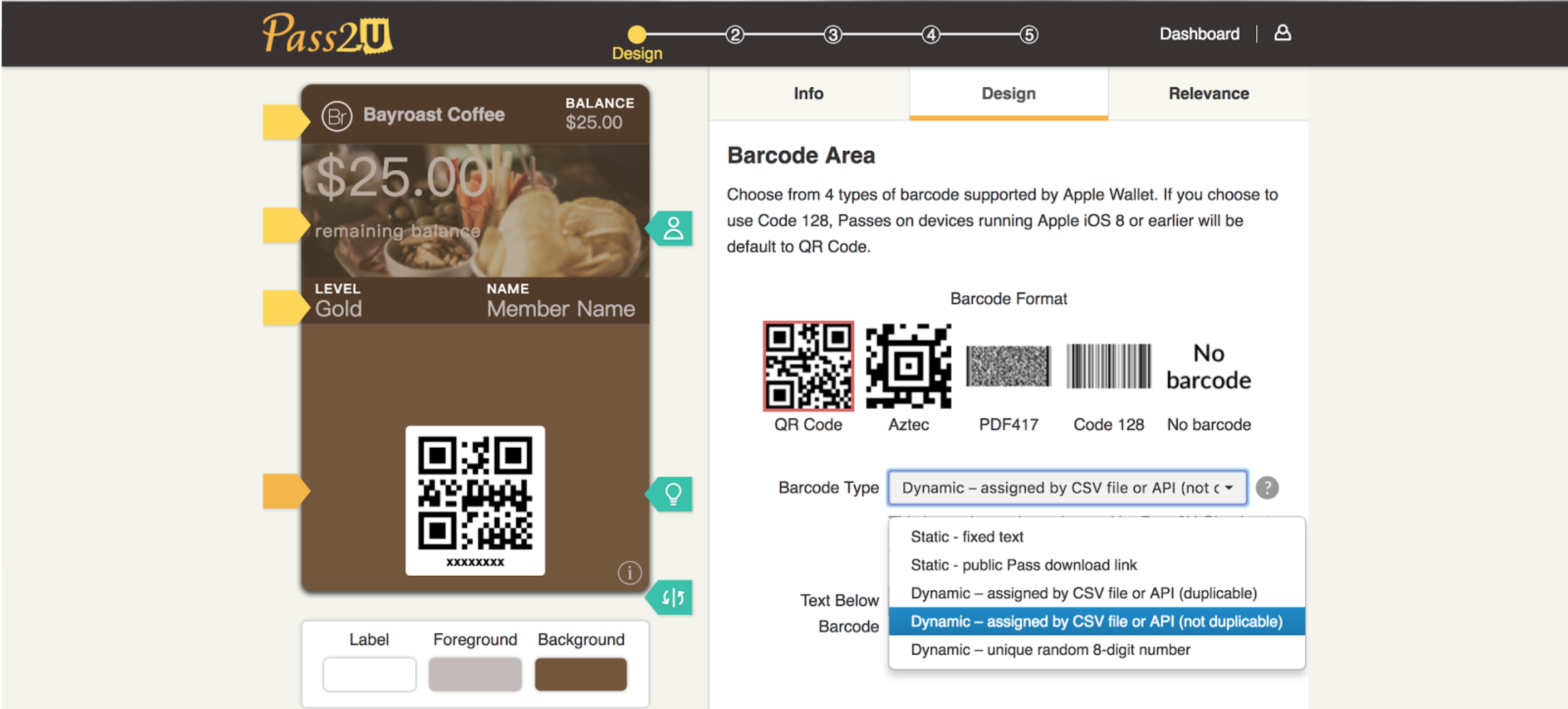 4. When you're done, click
Next
until you issue the pass. The pass appears on the
Issuing
tab within dashboard and you will get the
Model ID
of the model.

5. Use the
Model ID
to communicate with Pass API. After the model's being creating, you will get the
passId
in the API response. Please keep it in your system so that pass can be managed individually.
Authentication
Pass2U uses 32-characters length of Base64 encoded string as API Key to authenticate request. The API Key must be included in all API requests to Pass2U server in header "x-api-key" like the following example:
x-api-key: e6a45207817bb8e9b1f3e67bb696067c
API Key allows access to your private data in Pass2U which should not be shared outside of your company. Please visit your account page to apply Pass2U platform API Key.
RESTful HTTP Methods
We do our best to use standard HTTP Methods in Pass API:
Only support JSON format as payload of request/response
Responds with standard HTTP response codes to indicate errors
Pass2U Runs a Series of Services on AWS
Pass2U takes PCI DSS (Payment Card Industry Data Security Standard Standard) to protect your data
API Rate Limits
To help prevent strain on Pass2U's servers, Pass API imposes rate limits per API key. There is a limit of 100 requests per second per API for each API key. If a request exceeds the limit, Pass2U will return a 429 error along with a message corresponding to which limit was exceeded.